Léon, Nicaragua October 8, 1998
There are some beautiful people in this world. There is a medical team in León now from North Carolina. Doctors, nurses, anesthetists, whatever they need, I guess. They come down every year and spend two weeks doing pro bono open-heart surgery on children. They work at the local hospital and one of the nurses told me the local Nicaraguan nurses that they train are excellent, quick to learn and professional and caring with the patients.
I wouldn't have known about these wonderful people, may God bless them all!, except that they come into the coop and buy up weavings to take home. The weavers depend on the large amount of sales they make when these doctors and nurses come and buy just before they go home every year.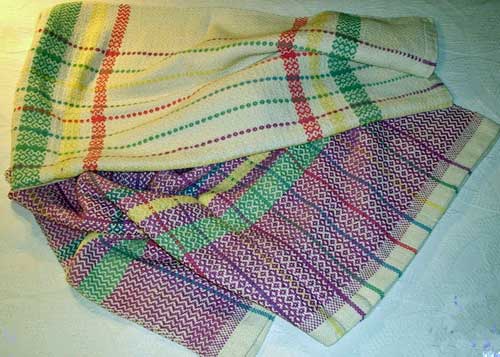 The new line of "non-gender-specific" baby blankets has started out well. Women have been buying them not only for babies on the way, but for afghans for little kids, for table covers, and to drape over the back of a chair. They are multi-colored and I think they are lovely. Some of the buyers seem to think they are "Nicaraguan peasant". That's okay with me if it makes them happy. While I guided their hands in dyeing the colors, what they do with them is up to the weaver, and they are coming out great.
Mirna's family has a big Muscovy drake, a half dozen mama ducks and a whole passel of half-grown ducklings. None of which, in no matter whatever, does Mirna like to eat, but her parents enjoy stewed duck.
They have a grey rabbit with one lop-ear that has the freedom of the house and has to be chased off table tops just like a cat. I really enjoy his general impertinence. They also have a turtle – I'm going to guess and call it a painted box turtle because he's quite colorful and has a high-domed shell. He, too, wanders at will, then returns to a dark corner of the kitchen at night.

Next
---

Back Lolli's homepage