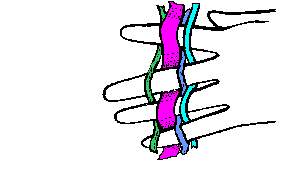 Mendocino Textiles
P.O. Box 74 Mendocino, Ca. 95460
122 East Fir (on the alley) Fort Bragg, Ca. 95437
(707) 961 1800 (studio) (707) 964 4819 (message)
e-mail: lolli@mcn.org
---
Mendocino Textile is the sole proprietor textile business of Lolli Jacobsen. Mendocino Textiles studio/workspace is located at Fort Bragg Fabric Studio, on the alley behind the Chocolate Company, in the Old Bottling Works building.
Lolli produces a line of handprinted and/or dyed silk scarves, towels, potholders, bags, garments, yardage, and wall hangings/tapestries. Her work is available for sale at the Fort Bragg Fabric Studio as well as at the Mendocino Art Center and Creative Hands in Mendocino; The Elk Studio Gallery; and the Rookie-To Gallery in Boonville. Mendocino Textiles has custom prints silk scarves for the San Francisco Opera Shop; The Mendocino Music Festival; and the California Shakespeare Festival in Orinda; House In The Country, Susan B. Wood Fine Textiles, and Gail MacKenzie. The business also prints T-shirts for a number of public and private individuals and organizations such as the Mendocino Art Center, KZYX Radio, Headlands Coffeehouse, and North Wind Surf Boards.
---
T-SHIRT PRINTING COSTS
TIME prefer 2 to 3 weeks rush jobs (within one week) add 10%
ARTWORK client presents clear acetate photo positve (photostat, kodalith, etc) $15 to $25 if Mendocino Textiles has positive made 2 clear xeroxes may work for art without much detail Studio rate for art work $30 per hour
SCREENS $20 temporary $30 permanent temporary screens kept for 6 months, permanent kept indefinately image owned by client, screen frame owned by Mendocino Textiles
INKS permanent, washable, dry-cleanable waterbased, non-toxic water-based acrylic fabric paints Custom mixed colors: additional $5 to $10 per color, otherwise ink price included in print cost
PRINT CHARGE $2 per shirt, 1 color or mixed/rainbow color add 50 cents for each additional color add additional 50 cents for white, opaque, or metallic colors 4 color maximum
ERRORS allow 5 to 10% margin client pays cost of shirt. No charge for print on errors
SHIRTS studio standard: heavyweight (5.5 oz.) pre-shrunk 100% cotton cost $3.50 to $5 (dark colors, larger sizes) supplied by client or Mendocino Textiles
OTHER SUBSTRATES sweatshirts, henleys, aprons, potholders, bandanas, bags, pillows, silk scarves (usually printed with dyes), yardages ask for particular quote
MINIMUM 1 dozen pieces
TERMS less than 50 pieces: net 30 more than 50 pieces: 50% deposit, balance net 30

Back to Lolli's Homepage.