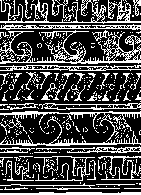 THE HANDWEAVING COOPERATIVE OF LEON
Leon, Nicaragua
HISTORY
The Handweaver's of Leon (formerly the Farabundo Marti y Sandino HandWeaving Cooperative) was established in Leon, Nicaragua in 1983 by the United Nations High Commission on Refugees. Originally the project involved 40 Salvadoran and 40 Nicaraguan workers. A Salvadoran master weaver provided the members with basic instruction in production handweaving. Loom specifications were given to local carpenters in Leon and approximately 30 looms, 5 bobbin winders, and a large warping mill were constructed for use in the cooperative. Workers were trained either as bobbin winders or as weavers.
The Salvadoran members of the cooperative (including the instructor) returned to El Salvador in 1988 and the cooperative was basically abandoned by the U.N.. Six of the original Nicaraguan weavers determined to keep the cooperative alive, and they continued at a very low level of productivity for the next two years.
In 1990 the New Haven / Leon Sister City Project took an interest in the weaving cooperative, providing loans, training in organizational skill, marketing and design assistance. At this point there are five original members and 12 total members working six days a week in the studio, production has increased dramatically, loans have been paid back, and the coop has become financially and administratively self-sufficient.
The Sister City Project sends designers to work with the weavers from time to time. Beth Davis, from Boston spent three months in the studio in 1990. She introduced them to several new patterns, including a very handsome and popular twill weave colcha or blanket in all natural Nicaraguan cotton or natural with colors. She worked with them on colors that would sell to the foreign market, taught them pattern drafting, and helped develop several new products.
Lolli Jacobsen spent the month of June of 1995 with the Cooperative helping to develop more new products, focus on quality control and color, as well as marketing. One special project was to introduce indigenous designs from pre-Columbian pottery. The Cooperative is set up to weave mostly plain weave with fly shuttles on 4 harness counter balance looms. They don't have the capability to produce complicated woven designs on their current equipment, so Jacobsen thought it best to introduce them to screen printing on a woven fabric of thicker yarns that would weave up much faster and carry the bold printed designs.
Elaine Lackey has worked with the Cooperative for three months each spring/summer since1996. Her main charge was to get the equipment working well, a task she was well suited for, having taught loom building in the States. And with the help of one of the new coop members, a young man named Cecilio, the equipment was improved. Elaine has also introduced many new weave patterns, worked with the weavers to upgrade quality ("sin errors"), and helped stabilize yarn supplies (with the generous help of Susan Druding of Straw Into Gold / Crystal Palace in Berkeley). You can read about Elaine's adventures and experiences in her journal/letters herewith.
---
For information about what products are currently available in the US for sale,
or to arrange a slide talk and see the work of the weavers contact
Elaine Lackey 102 N. Wenatchee Ave # 510 Wenatchee, Wa. 98801
(509) 663 5526 or email at: elackey@crcwnet.com
Lolli Jacobsen P.O. Box 74 Mendocino, Ca. 95460 (707) 937 0352

E-mail to Lolli
or Alan Wright of the New Haven / Leon Sister City Project 608 Whitney Ave. New Haven, Ct. 06511

E-mail to The Sister City Project, New Haven
The Sister Cities Project does lots of other good work in Nicaragua such as -community water and school building projects, a loan service, etc. To find out more about the big picture check out:
The New Haven homepage. Click here.
---
If you should be so lucky as to go to Nicaragua, do not miss Leon, (charming Colonial City, safe and comfortable) and be sure to go by the Weaving Cooperative. You will be warmly received and they have things there for sale:
Cooperativa Telares Manuales de Leon, Iglesia Nuestra Senora de Dolores, 1 cuadra al Norte, 75 varas abajo
In Nicaragua directions are given from the nearest landmark (usually a church as in this case) rather than with street names or numbers. The Cooperative is in the far north end of town, just a block and a half east from the end of the main street, Independencia, but set back off the street. There is a plaster of paris saint factory just across the street. Or safer yet, use the directions given in the mailing address above: from the church of Dolores, one block north , then 3/4 of a block down (or west / left).

E-mail to Leon Office in Nicaragua
Want to help? Buy one of the beautiful handwoven products produced by the weavers
Help us find outlets amongst individuals and groups as well as shops and catalogs for the handwoven products (send suggestions to Lolli or Elaine)
Contribute to the next effort to send a designer to work with the weavers (all travel and housing/feeding expenses-typically around $2,000--are traditionally raised in the United States by private donation- the designers from the States do not get paid.).
Communicate directly with Elaine to find out about the school project, other things she's up to,.... (see Elaine's letters for more details) Elaine Lackey 102 N. Wenatchee Ave. #510 Wenatchee, Wa. 98801

E-mail to Elaine Lackey
Elaine Lackey writes, "My regard for these weavers and their families is more than I would have thought possible. It's unbelievably wrenching to watch people work as hard as they for the long hours they put in, and get so little in return. Remember, the Co-op was started as a work-training project by the UN but was abandoned by them before sufficient training was given. There were no other jobs for them (Nicaragua is the poorest country in Central America) and the women who stayed with the weaving coop were desperate to do something to make a living for their families but they needed help. It isn't easy being tough with them, but that's what I've had to be as I teach them, and it's what they've asked for. "Tell us how to do it right." they'd say. That's what I ty to do, and they work uncomplainingly at it. They expect me to be a tough taskmaster. Quality control has been my biggest emphasis in the past; they already knew how to work hard. This year (1998), when I go down will probably be my toughest year yet as I try to round off the lessons of the past and go ahead with the new. I pray they will somehow manage to make a living, to put food on the table and to keep thier children in school, in Nicaragua's crumbling economy, and I shall do everything I can to help.
The whole purpose of the training the New Haven / Leon Sister City Project gives in all its projects is to help make people self-sufficient, not to provide welfare. Rather than give them handouts, we want them to be able to make a living after we go home.
---

Read Elaine Lackey's letters from Nicaragua

Back to Lolli's Homepage.